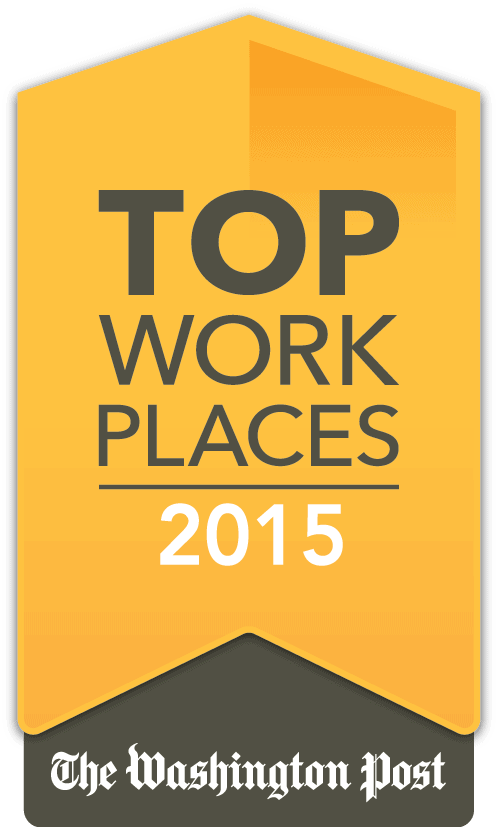 Thompson Greenspon is pleased to announce that it has been selected as one of The Washington Post's Top Workplaces for 2015. The firm was ranked #26 out of 75 in the Small Employers category. 150 organizations were selected in total.
The Top Workplaces are determined based solely on employee feedback. The employee survey is conducted by WorkplaceDynamics, LLC, a leading research firm on organizational health and employee engagement. WorkplaceDynamics conducts regional Top Workplaces programs with 45 major publishing partners across the United States.  Over the past year, more than 6,000 organizations and 1 in every 88 employees in the U.S. have turned to WorkplaceDynamics to better understand what's on the minds of their employees. Through its workplace improvement offerings, WorkplaceDynamics  provides solutions, training and tools to help clients improve their workplace.
Thompson Greenspon provides a strong family atmosphere and believes a work-life balance is essential for any thriving business. "We feel very honored to be recognized as a Top Workplace by The Washington Post for the second year in a row," said Chip Helme, Managing Principal.  "Our staff is an integral part of Thompson Greenspon's success and their happiness will continue to always be a top priority of the firm."
The Washington Post published the complete list of Top Workplaces on June 21st. For more information about the Top Workplaces lists and WorkplaceDynamics, please visit www.topworkplaces.com and www.workplacedynamics.com.
Information provided on this web site "Site" by Thompson Greenspon is intended for reference only. The information contained herein is designed solely to provide guidance to the user, and is not intended to be a substitute for the user seeking personalized professional advice based on specific factual situations. This Site may contain references to certain laws and regulations which may change over time and should be interpreted only in light of particular circumstances. As such, information on this Site does NOT constitute professional accounting, tax or legal advice and should not be interpreted as such.
Although Thompson Greenspon has made every reasonable effort to ensure that the information provided is accurate, Thompson Greenspon, and its shareholders, managers and staff, make no warranties, expressed or implied, on the information provided on this Site, or about any other website which you may access through this Site. The user accepts the information as is and assumes all responsibility for the use of such information. Thompson Greenspon also does not warrant that this Site, various services provided through this Site, and any information, software or other material downloaded from this Site, will be uninterrupted, error-free, omission-free or free of viruses or other harmful components.
Information contained on this Site is protected by copyright and may not be reproduced in any form without the expressed, written consent of Thompson Greenspon. All rights are reserved.
Ready to talk to one of our specialists?
Our specialists are all seasoned professionals who have years of experience working within your industry. Reach out to us today to schedule a consultation.