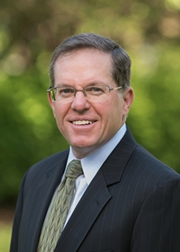 Thompson Greenspon is pleased to announce that Charles F. Helme III, CPA, Managing Principal, was named a member of the 2016 Class of 20 Prominent Patriots by George Mason University.  
Each year, the George Mason University School of Business honors an elite group of alumni that epitomize "The Mason Graduate" as engaged citizens and well-rounded scholars who are prepared to act. Peer-nominated and peer-selected, the 20 Prominent Patriots represent School of Business alumni as the very best in demonstrating citizenship, scholarship, and leadership in their daily lives.
Charles (Chip) Helme is the managing principal of Thompson Greenspon and has been with the firm since 1986. Helme is a 1985 graduate of George Mason University with a BS in accounting. He remains an active part of the Mason community as a board member for the George Mason University Accounting Advisory Council and former treasurer of the George Mason University Alumni Association.
Chip stated, "Being included in this year's 20 Prominent Patriots is an honor. GMU not only provided me with the tools and resources to be a successful CPA, but sparked my passion for my career in public accounting."
The 2016 Prominent Patriots were honored at the 11th Annual Business Celebration on Thursday, October 13, 2016 at the Hyatt Regency Tysons.
For a full list of the 2016 20 Prominent Patriots, visit: http://business.gmu.edu/alumni/20-prominent-patriots/
Information provided on this web site "Site" by Thompson Greenspon is intended for reference only. The information contained herein is designed solely to provide guidance to the user, and is not intended to be a substitute for the user seeking personalized professional advice based on specific factual situations. This Site may contain references to certain laws and regulations which may change over time and should be interpreted only in light of particular circumstances. As such, information on this Site does NOT constitute professional accounting, tax or legal advice and should not be interpreted as such.
Although Thompson Greenspon has made every reasonable effort to ensure that the information provided is accurate, Thompson Greenspon, and its shareholders, managers and staff, make no warranties, expressed or implied, on the information provided on this Site, or about any other website which you may access through this Site. The user accepts the information as is and assumes all responsibility for the use of such information. Thompson Greenspon also does not warrant that this Site, various services provided through this Site, and any information, software or other material downloaded from this Site, will be uninterrupted, error-free, omission-free or free of viruses or other harmful components.
Information contained on this Site is protected by copyright and may not be reproduced in any form without the expressed, written consent of Thompson Greenspon. All rights are reserved.
Ready to talk to one of our specialists?
Our specialists are all seasoned professionals who have years of experience working within your industry. Reach out to us today to schedule a consultation.