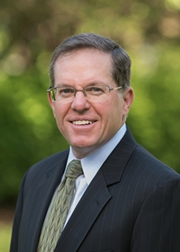 Thompson Greenspon is pleased to announce that Charles F. Helme III, CPA, Managing Principal, was named a member of the 2016 Class of 20 Prominent Patriots by George Mason University.  
Each year, the George Mason University School of Business honors an elite group of alumni that epitomize "The Mason Graduate" as engaged citizens and well-rounded scholars who are prepared to act. Peer-nominated and peer-selected, the 20 Prominent Patriots represent School of Business alumni as the very best in demonstrating citizenship, scholarship, and leadership in their daily lives.
Charles (Chip) Helme is the managing principal of Thompson Greenspon and has been with the firm since 1986. Helme is a 1985 graduate of George Mason University with a BS in accounting. He remains an active part of the Mason community as a board member for the George Mason University Accounting Advisory Council and former treasurer of the George Mason University Alumni Association.
Chip stated, "Being included in this year's 20 Prominent Patriots is an honor. GMU not only provided me with the tools and resources to be a successful CPA, but sparked my passion for my career in public accounting."
The 2016 Prominent Patriots were honored at the 11th Annual Business Celebration on Thursday, October 13, 2016 at the Hyatt Regency Tysons.
For a full list of the 2016 20 Prominent Patriots, visit: http://business.gmu.edu/alumni/20-prominent-patriots/