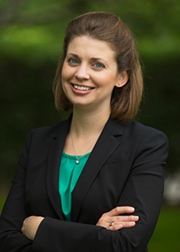 Thompson Greenspon is proud to announce that Natalie R. Anzzolin, CPA, has been named a Principal of the firm effective August 1, 2016.
"It is with great pride that the firm announces Natalie as Principal" said Chip Helme, CPA, Managing Principal. "Natalie has been a member of the firm since the beginning of her career and we are pleased to recognize her as a leader of Thompson Greenspon after her many years of hard work and dedication."
Natalie graduated from James Madison University with a Bachelor's degree in Accounting.  Shortly after, she joined the firm in 2002 as a staff accountant. Natalie is responsible for providing accounting, auditing and tax services to clients engaged in various industries such as nonprofit organizations, construction, small business, financial institutions, government contractors and employee benefit plans. Her experience includes overall accounting assistance, tax return preparation and compilation, review and audit services.